Secondary Suites in Nanaimo
There are many names for suites including secondary suites, legal suites, mother-in-law suites, authorized suites, and non-authorized suites. Scroll to the bottom of this page to find definitions of each of these.
Getting clear on all of these names will help educate you on what a secondary suite consists of based on information provided by the City of Nanaimo.
What Constitutes a Secondary Suite?
separate space with own or shared entry way
separate sleeping area
kitchen
minimum of a 3 piece bathroom
In 2005 the City Council voted to allow suites in most single family dwellings. This process meant that the home builder or a home owner needed to apply for a building permit to authorise, or to legalize a suite and have all of the safety and building code issues adhered to. Some of the requirements of a secondary suite are:
Height of rooms or spaces – The height shall not be less than 2.0 metres or 6'6 ¾"
Fire separation between the suite and the main dwelling with smoke alarms.
It must be located in a building containing only residential occupancy
The secondary suite is located in or is part of a building containing only one other dwelling unit
The area of the secondary suite cannot exceed 90 m2 of finished living area (This does not include the areas used for common storage, common laundry facilities or common areas used for egress)
Kitchen and bathroom fans are to exhaust to the outdoors (Legal suites only)
Hinged exit door with door viewer or clear glass
Minimum bedroom window opening size (minimum 15" width/height, minimum 3.75 square feet in area).
The area of the secondary suite cannot exceed 40% of the total living floor space of the building it is located in.
The Secondary suite cannot be subdivided for the building it is part of under the strata property act.
Secondary suite to have its own heating and electrical system independent of the rest of the building.
There is only one secondary suite permitted in the building
Frequently Asked Questions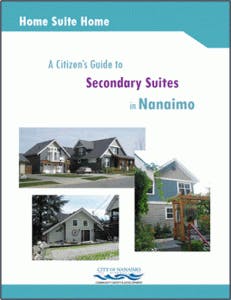 For more information about secondary suites in Nanaimo, download "A Citizen's Guide to Secondary Suites in Nanaimo" from the City of Nanaimo.